[op_file_download_item title="Special%20Report%20On%20Kids%20Martial%20Arts%20Classes" icon="style1-Pdf-64x64.png" file="http://1ninjacopytemplatev220.newmemberwebsites.com/wp-content/uploads/sites/101/2016/02/Kids-Report.pdf" package="" level="" new_window="Y"]%3Cfont%20size%3D%223%22%20color%3D%22white%22%3E%3Ci%3E5%20Things%20You%20Should%20Know%20About%20Kids%20Martial%20Arts%20Classes%3C%2Fi%3E%3C%2Ffont%3E[/op_file_download_item]
Take Our Simple Trial And See What Martial Arts Classes Could Do For Your Child.
Our Schedule:
If you're unsure about the schedule, give us a call. We'll be happy to help you find a time that works for you.
Our Special Trial Offer:
1 Week of Classes
$19.95
No Obligation to Continue After Your Trial Period
Remember "The Answer"? Here It Is:
We Treat Children Like They Matter
What Does That Mean And Why Does It Help?
Kids don't really go along with the whole "children should be seen, not heard" thing. They want to participate, contribute, and be accepted. But it's not always a kid friendly world, even places that claim to be focused on childrens' well being-like School, extra curricular activities, daycares, etc. want kids to be quiet, not ask questions, and not make waves. Even most Martial Arts schools operate from this well meaning (but *really* flawed) mentality.
Instead, we'll treat your child like they matter, like they're worthy of respect. We don't treat them like adults or let them run free, but we do things like give them information and then the opportunity to make their own choices and decisions based on that information (so that when they succeed they know it was THEIR success, and if they fail, they'll be able to take responsibility and try again).
We Give Respect To Get Respect
This kind of "Guided Respect" helps to show your child how THEY should treat OTHERS. If kids are always getting yelled at, told their ideas aren't important and not allowed to make decisions for themselves.... why would we expect them to treat others any differently?
The point is, we know deep down that every child is a really cool, really important person, and we'll help empower them so that they believe it too. Over time, your child will learn to move through their lives with a level of confidence that will inspire others.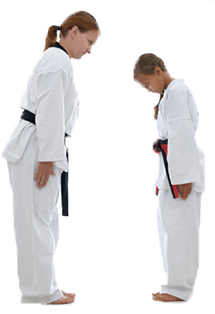 We Don't Change Your Child
Our Marital Arts classes Take Your Child's Natural Disposition into account. Instead of working to "fix" them (to change who they are), we can work WITH their natural physical and emotional energy, enhancing their strengths and working to shore up their weaknesses.
Now, of course kids need Rules, Boundaries and Limitations, but we enforce these necessities with kind, assertive leadership exercised in a fun, high energy environment (so that kids are already excited to be there).
I mean, if we want children to be compassionate, polite, patient and calm, we have to set the example by treating them that way!
We Bring Out Their Best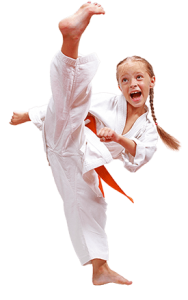 So yes, we have rules (and they're important). Our classes are far from your average run-around-screaming, coach-pulling-his-hair-out, free-for-all kid's activity. You'll immediately see your child enveloped in a culture of excellence, a place where we expect the best out of our students. This actually makes it EASIER for your child to reach the kind of goals we all want.
When they step onto the mat they'll be surrounded by other children who are on the same path of excellence, and that's more helpful than you can imagine.
Our Special Trial Offer:
1 Week of Classes
$19.95
No Obligation to Continue After Your Trial Period
Your Child Will Strive For Excellence
A High Energy, exciting class where your child will pay attention, follow the rules and try their best? Sounds too good to be true, I know. But think about it… a Kid's "natural" state is seeking out fun, so if we get them to that state, it becomes EASY to instill life changing Character Development Skills that they'll take off of the mat and apply to the rest of their lives. 
They'll Become More Focused, Confident, and Disciplined; Plus, They'll Love Every Second Of It!
But Here's The Deal (Where You Come In)...
Parents Have a Vital Role In This Success. You MUST Follow These 4 Steps:
1

Take Action

Sign your child up for our No Obligation Trial.

2

Observe Objectively

Watch your child closely and decide if what they're doing in class will benefit their lives.

3

Be Involved

The most successful children in our program have parents who are committed to their child's success. They regularly watch classes and try to understand what their child is learning. Be involved and watch your child grow exponentially!

4

Help Them Follow Through

There WILL be things your child encounters that challenge them physically, mentally, and emotionally. Together though, you and our team of instructors can help keep your child on track.
We regularly hear Black Belt teenagers (who started as young children) tell us that they credit their martial arts training, specifically learning to push through challenging times, with their high school and college success.
If You Can Commit To Those 4 Steps, We Can Help Your Child Become The Best Version Of Themselves:
Confident, Successful, and Most Importantly, Happy
So Take Step #1, And Try Our No Obligation trial.
Our Special Trial Offer:
1 Week of Classes
$19.95
No Obligation to Continue After Your Trial Period
What's The Catch?
Nothing. Seriously.
We're REALLY good at what we do, and you're going to see very quickly if our classes are right for your child.
If not, no problem. In fact, we'll even try to use what we learned about your child to suggest an activity that will better suit their needs.
It Could Be The Best Thing Your Child Has Ever Done
Frequently Asked Questions About Our Trial
What should we wear/bring to class?
How often should we attend class?
If we like it, how does the signing up work?
My child isn't super athletic, is that ok?
I've said it already, but again, thank you for considering Martial Arts for your child. For our staff and students, it's been a defining area of their lives, and we sincerely hope that it's as special for your child as it's been for us.
P.S. To be sure we are properly serving our students, we only allow a certain number of new students per trial programs each month. If you think our Martial Arts Classes might be beneficial for your child, it's important that you fill out the form before the spaces are full.
P.P.S. If we're already completely booked, we'll inform you and put you on the waiting list.
Our Special Trial Offer:
1 Week of Classes
$19.95
No Obligation to Continue After Your Trial Period